News
(For photogallery and other on-line matters, see the "On air" menu item )
Wednesday
The ITER web site posted basic info about the event, see FuseNet PhD event: off to an enthusiastic start .
Monday
The FUSENET office have made a publication on the first day of the PhD event at the FuseNet website. See http://www.fusenet.eu/node/1023 .
Saturday:
Almost ready. Looking forward to see you tomorrow. LOC.
Friday:
Message from Sabina & Dan:
Hi, fusion is a difficult subject to describe, full of complex physics and profound implications. In preparation for the session on Tuesday about Fusion and Public Communication we would like to set you a challenge, if you're up for it. We'd like you to describe the research you are doing, in a way that anyone can understand, as a tweet. Yes, all those years of work, frustration, setbacks and triumphs, all in 140 characters (minus the hashtag). Tough, but see if it's possible. We'll show some of them during our presentation. Remember to include the hashtag #fusionIn140. (Or, if you don't have a twitter account, you can also send your text to tweetit@iter.org).
Good luck. See you on Tuesday,
Dan and Sabina
Thursday:
List of participants ..
within individual excursions published: pdf x xlsx form.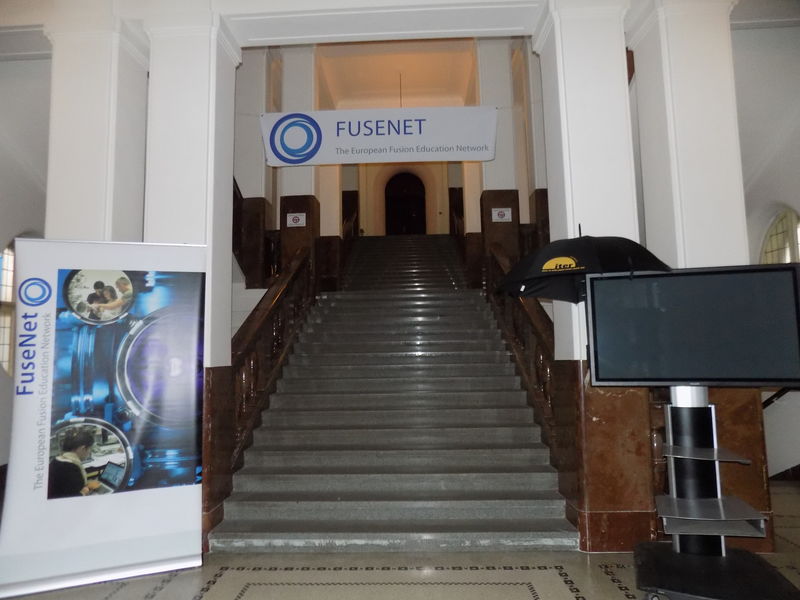 The foyer of the venue is ready for the event.
Wednesday:
Conference agenda available on smartphones:
The Conference4me smartphone app provides you with the most comfortable tool for planning your participation in Fusenet PhD Event 2015. Browse the complete programme directly from your phone or tablet and create your very own agenda on the fly. The app is available for Android, iOS, Windows Phone and Kindle Fire devices.To download mobile app, please visit http://conference4me.eu/download or type 'conference4me' in Google Play, iTunes App Store, Windows Phone Store or Amazon Appstore. More information can be found here
FuseNet PhD Event: countdown has started!